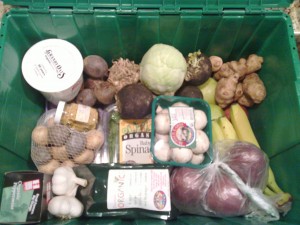 This has to be the best fruit/veggie box I have received yet from Boston Organics service. It is my standard $29 "dogma box" of local veggies:
Apples, beets, cabbage, celery root, red onions, potatoes, black radishes, sunchokes, and white mushrooms
Plus a few add-on items:
Garlic, local bee pollen, granola, spinach, bananas
I am excited about the local bee pollen. I am curious if it will reduce my seasonal allergies. I plan to mix it into my green food drink in the morning.
I pair my vegetables with protein from Stillman Farms Turkey Farm. The Stillman CSA is too much for one person but they sell at several farmer's markets in the Boston metro area and have regular CSA pickups for winter-month resupplies.
I have been nothing but blown away with the quality, service, and fair prices of Boston Organics and Stillman Farms Turkey Farm.